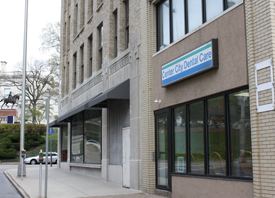 Are you searching for a respected children's dentist? Harrisburg, PA, parents know the staff at Center City Dental Care offer family dentistry services at reasonable prices. Whether it's time for your child's first checkup or you think your child may need braces or the restoration of decayed teeth, we're here to discuss your concerns and protect your family's oral health and well-being. Let us take the hassle out of finding professional dental care for the whole family by caring for you and your little ones at our renowned practice. We strive to take care of our smaller patient's needs and successfully treat the majority of them. However, there are occasions when it may be necessary to refer your child to a specialist who practices sedation dentistry if they are overly fearful or require more extensive treatment.
We make every effort to ensure our patients are comfortable and relaxed while under our care. From ensuring wait times are at a minimum to giving patients the unique, personalized attention they deserve, we go out of our way to accommodate the needs of our patients. To help your children achieve a lifetime of good oral health, it's important to get started on the right foot. In addition to performing regular cleanings, we can teach your child about proper oral hygiene and develop the strong foundation he or she needs to achieve a bright, healthy smile.
Visit the children's dentist Harrisburg, PA, parents know and trust. At Center City Dental Care, you'll find a family dentist who is committed to making oral health care accessible and affordable. All of our dental services are fairly priced, and we offer valuable financing options. To schedule an appointment for your child, yourself, or your whole family, call our Harrisburg office today.